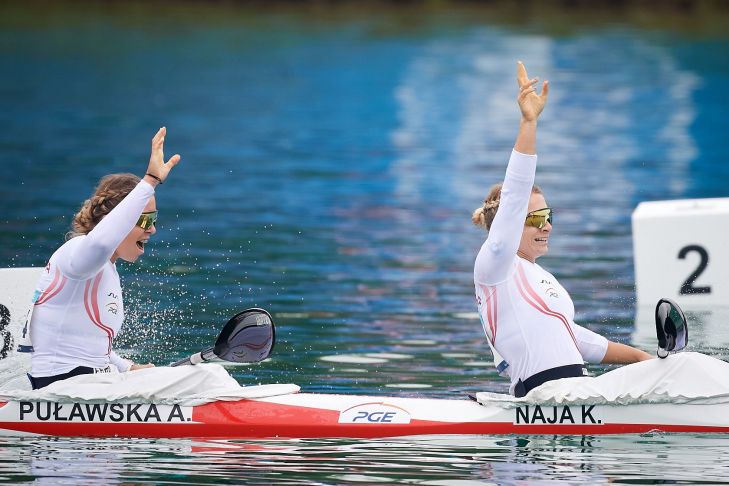 ECA SPRINT EUROPEAN CHAMPIONSHIP – MUNICH 2022
Posted at 13.09.2022
Munich was a secret for most us, but now we know that the venue of the 1972 Olympics is a surprisingly good regatta course: good location, clear water – not evwerytime you get to paddle, see the bottom and fish wandering around – and a big amount of space for the public and for the athletes. Having the European Championship included in a multi-sport event was a bonus for everybody involved.
Not a surprise was the performance of Anna Pulawska. She was already coming from Canada with a clean record of golds, but in Munich she steped up her game. Dominante gold in the K1 500 (Emma Jorgensen Bronze and Gold in the K1 200), K2 (Jule Hake Bronze) and K4 with Karolina Naja, a team that is here to stay and can face the Paris 2024 cycle with great optimism.
Who also left Munich with three medals was Fernando Pimenta. He didn't find the Gold he was looking for in Canada but got it in Munich in the 5K followed by the spanish master Walter Bouzan of 44 years of age. Pimenta would also win a Bronze medal in the K1 500 and a Silver in the main event K1 1000 in front of Artuur Peters with a bronze to finish the season in style.
Back to the good results is Carlos Tachini. Three Bronze medals in C1 1000, 500 and 5K to sweeten even more the season of his return to the top.
A rain of golds in the Paracanoe Events: Tamas Juhász, Laura Sugar, Juan Valle, Federico Mancarella and Peter Kiss.
Here are the complete list of medalists:
Paracanoe
Laura Sugar – Gold KL3 200
Peter Kiss – Gold KL1 200
Federico Mancarella – Gold KL2 200
Juan Valle – Gold KL3 200
Tamas Juhász – Gold VL2 200
Mykola Syniuk – Silver KL2 200
Nelia Barbosa – Silver VL3 200
Eleonora de Paolis – Silver KL1 200
Vladyslav Yepifanov – Silver VL3 200
Maryna Mazhula – Bronze KL1 200
Hope Gordon – Bronze VL3 200
Norberto Mourão – Bronze VL2 200
David Philipson – Bronze KL 200
Jonathan Young – Bronze VL3 200
Sprint
Anna Pulawska – Gold K1, K2 and K4 500
Karolina Naja - Gold K2 and K4 500
Fernando Pimenta – Gold K1 5K, Silver K1 1000 and Bronze K1 500
Emma Jorgensen – Gold K1 200 and Bronze K1 500
Manfredi Rizza – Gold K2 200
Samuel Balaz – Silver K4 500
Denis Mysak – Silver K4 500
Bolette Iversen – Silver K4 500
Pernille Knudsen – Silver K4 500
Sara Milthers – Silver K4 500
Jakub Stepun – Silver K2 200
Bartosz Grabowski – Silver K2 200
Walter Bouzán – Silver K1 5K
Susanna Cicalli – Silver K1 5K
Rói Rodriguez – Silver K4 1000
Carlo Tachini – Bronze C1 1000, 500 and 5K
Artuur Peters – Bronze K1 1000
Jule Hake – Bronze K2 500 and 200
Alida Gazsdó - Bronze K4 500
Begoña Laskano – Bronze K2 1000
Laia Pelachs – Bronze K2 1000
Next stop Junior & U23 World Championship in Szeged