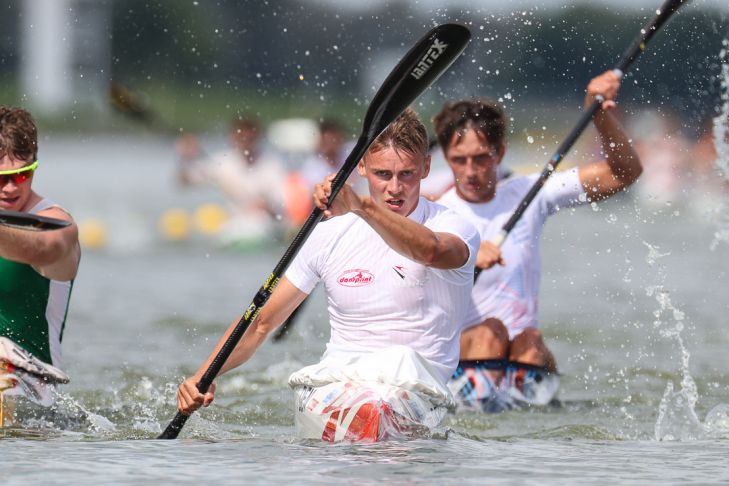 SPRINT JUNIOR AND U23 WORLD CHAMPIONSHIP – SZEGED 2022
Posted at 18.09.2022
Szeged is one of the most exciting venues in the world. It's one of those places where you can feel the athmosphere of the past echoeing over the waters. It's certainly memorable for the young athletes to race in Szeged, something they will remember for long years..
One of the attractives in Szeged was to know who would keep the good results from the Europeans in Belgrade. For sure, the Polish duo of Jakub Stepun and Bartowsz Grabowski didn't leave Hungary disappointed. To finish a top level season they won the K2 U23 500 – second by the portuguese Pedro Casinha, another star in the making – and the K4 U23 500 with Wiktor Leszczynski, beating two very strong crews from Hungary and Australia. World champion, also, Julia Olszewska in the K4 U23 500. It looks like Poland has a great back up for their Senior World Champion K4.
What to say about Beatriz Briones. In Canada, she won a surprising bronze medal in the K4 500, but in Szeged she showed it was not about luck: Bronze in the K1 500 and K2 500 with Isabel Romero, another big name of the world class mexican new generation. A new generation also growing in Italy: Sara Daldoss, Elena Ricchiero, Lucrezia Zironi and Sara Vesentini took the Bronze medal in the K4 and Dalsoss and Zironi the Silver in the K2 500. Very impressive.
Jantex is every year becoming more popular when it comes to Canoe paddles. Our Kappa has already a very good record in Junior and U23 competitions and this year was not different: Beatriz Fernandes – remember this name – is the new C1 Junior 200 World Champion, Bronze in 1000 metres and the Silver in the 500 Mix; Julia Osende, multiple times world champion and medalist in World championships leaves Szeged with a Bronze in the C2 500 and a Gold in the C4 500; and to finish, a very emotional victory by Mohammad Nabi Rezaei in the C1 5K.
A very special word in this report for Thorbjorn Rask. His season had ups and downs but he won the 5K in Racice (WC I) and he is the first U23 5K World Champion. Let's see what the short race in Portugal will bring for him.
Here is the complete list of medalists:
U23
Julia Olszewska – Gold K4 500
Jakub Stepun – Gold K4 500 and K2 500 and K2 Mix 500
Bartosz Grabowski – Gold K4 500 and K2 500
Wiktor Leszczyinski – Gold K4 500
Thorbjjorn Rask – Gold K1 5K
Mohammad Nabi Rezaei – Gold C1 5K
Tamas Szabo – Silver K1 1000
Pedro Casinha – Silver K2 500
Jonas Ecker – Bronze K2 500
Julia Lilley Osende – Gold C4 500, Bronze C2 500
Sara Daldoss – Silver K2 500, Bronze K4 500
Elena Ricchiero – Bronze K4 500
Lucrezia Zironi – Silver K2 500, Bronze K4 500
Sara Vessentini – Bronze K4 500
Beatris Briones – Bronze K1 500 and K2 500
Isabel Romero – Bronze K2 500
Yoanna Georgieva – Bronze K1 200
Anezka Paloudova – Bronze K1 1000 and K1 5K
Junior
Beatriz Fernandes – Gold C1200, Silver C2 Mix 500, Bronze C1 1000
Paul Leo Grosser – Silver K4 500
Reka Bugar – Silver K2 500
Alex Borucki – Silver K2 500
Luka Micotti – Silver K2 1000
Matevs Manfreda – Silver K1 500
Achile Spadacini – Silver K2 Mix 500
Jonas Borkowski – Bronze K2 500
Lars Billiet – Bronze K4 500
Stanislas Bastiaens – Bronze K4 500
Louis Vangeel – Bronze K4 500
Raphael Akarele – Bronze K4 500
Zuzanna Blazejczak – Bronze K4 500
Dominika Zimnoch – Bronze K4 500
Candela Velasquez – Bronze K1 5K
Natalia Brobot – Bronze K2 Mix 500
More information here
Next stop: Marathon World Championship in Ponte de Lima.