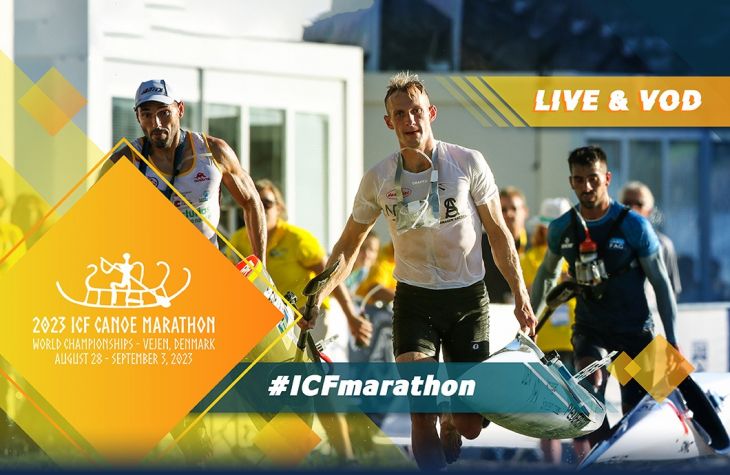 ICF MARATHON WORLD CHAMPIONSHIP – VEJEN 2023
Posted at 12.09.2023
It's always good to be back in Denmark, a country with a great reputation and a very long list of world class paddlers.
The weekend started with a very antecipated "rematch" of the 5Ks in Duisburg between Mads Pedersen and Fernando Pimenta. In a different race, less portages and shorter (3,4Km), Pimenta imposed himself overtaking Mads in the final turn to revalidate the world title. A thrilling race that, for sure, is an example of how to spread excitment among the audience.
But what no one will forget, for the years to come, is the dominance of Mads Pedersen in the long course. He just ran away from the competition and flew solo for half of the race. It's not easy to remember the last time a K1 Men manage to escape alone and finish more than two minutes ahead of the chasing group. And absolut memorable display of marathon skills. The message is clear: if you want to follow him you have to be able to endure high speeds for a long time. For sure, Mads will be remembered as one of best marathon paddlers of all time.
The new generation also presented us with great races in Denmark. Ronan Foley finally achieved the U23 Gold he was looking for for so many years, Katerina Milova a very tasty U23 Silver and Argentina dominated the Men's Junior K1 and K2 race with Vicente Vergauven and Joaquin Catalano.
Here is the list of medalist with Jantex
Fernando Pimenta – Gold K1 M Short Race and K2 Men
Mads Pedersen – Gold K1 Men and Silver K1 M Short Race
Ronan Foley – Gold K1 M U23
Vicente Vergauven – Gold K1 and K2 M Junior
Joaquin Catalano – Gold K2 M Junior and Silver K1 M Junior
Philip Knudsen – Silver K1 M U23
Katerina Milova – Silver K1 W U23
Fernando Busto – Silver C2 Men
Diego Miguens – Silver C2 Men
Maria Martinez – Silver K2 W Junior
Lidia Zornoza – Silver K2 W Junior
Francisco Santos – Bronze K1 M U23
Csilla Rugasi – Bronze K2 Women
Martina Catalano – Bronze K1 W Junior
Arturo Aguilar – Bronze K2 M Junior
More information here.
One more season in which Jantex consolidated its position on the top of our sport. Either it's sprint, marathon, wildwater or ocean racing, there's every year more paddlers choosing Jantex.
We hope we had been up to the expectations and we believe we helped our athletes the best we could.
Disappointments and the victories are part of life and we want to tell you that we will be there no matter what the outcome.
Thank you very much to those who keep trusting us. For sure, it wouldn't be the same without you.
We will be back in 2024 for an even more challenging season.