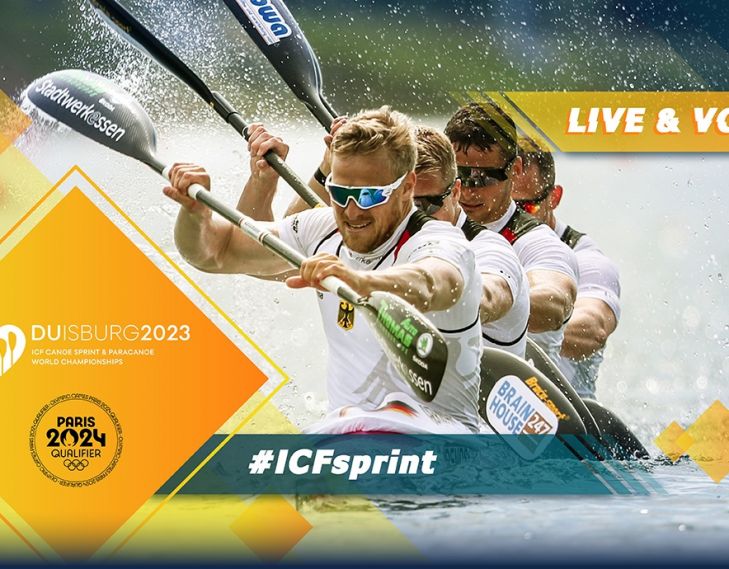 ICF SPRINT AND PARACANOE WORLD CHAMPIONSHIP – DUISBURG 2023
Posted at 03.09.2023
Ten years later we were back to Duisburg for a Sprint World Championship and it's always a plesure to come back to one of the most iconic venues of canoeing.
There's not the slightest doubt about the biggest names of the competition:
Lisa carrington made her magic in K1 like we are used to (followed by Emma Jorgensen in the 500 metres) but also in K4, leading the New Zealand team to an historic Gold.
Fernando Pimenta's words define best what he did in Duisburg: "In terms of resilience I'm, probably, one of the best athletes in the world". And that explains the Gold in K1 1000, but also the K1 5K's Silver and the K1 500's Bronze.
Eight Gold medals in Paracanoe, 19 in total, make us very proud of the work we have been doing to develop the best tools for every strand of canoeing. A very special welcoming for Hope Gordon and Dylan Littlehales as they joined the group of World Champions after so many fights.
Here is the list of Medalists paddling with Jantex
Sprint
Lisa Carrington – Gold K1 500, K4 500 and K1 200
Fernando Pimenta – Gold K1 M 1000, Silver K1 M 5K and Bronze K1 M 500
Emma Jorgensen – Gold K2 W 500 and Silver K1 W 500
Messias Baptista – Gold K2 M 500
Alicia Hoskins – Gold K4 W 500
Olivia Brett – Gold K4 W 500
Tara Vaughan – Gold K4 W 500
Mads Pedersen – Gold K1 M 5K
Karolina Naja – Silver K4 W 500
Anna Pulawska – Silver K4 W 500
Badri Kavelashvili – Silver K1 M 200
Yale Steinpreis – Silver K1 W 200
Tamas Szabo – Silver K2 M 1000
Madeleine Schmidt – Silver K2 W 5K
Jule Hake – Bronze K2 W 500
Nico Paufler – Bronze K1 M 5K
Barbara Pardo – Bronze K2 Mix 500
Julia Lilley Osende – Bronze C4 W 500
Paracanoe
Peter Kiss – Gold KL1 M 200
Curtis McGrath – Gold KL2 M 200
Laura Sugar – Gold KL3 W 200
Maryna Mazhula – Gold KL1 W 200
Dylan Littlehales – Gold KL3 M 200
Fernando Rufino de Paulo – Gold VL2 M 200
Vladyslav Yepifanov – Gold VL3 M 200
Hope Gordon – Gold VL3 W 200
Igor Tofalini – Silver VL2 M 200
Nelia Barbosa – Silver KL3 W 200
Mykola Syniuk – Silver KL2 M 200
Katherinne Wollermann – Silver KL1 W 200
Jonathan Young – Silver KL3 M 200
David Gonzalez – Silver VL1 M 200
Federico Mancarella – Bronze KL2 M 200
Brahim Guendouz – Bronze KL3 M 200
Luis Carlos Cardoso da Silva – Bronze KL1 M 200
Mari Santilli – Bronze VL3 W 200
Carlos Glenndel Moreira – Bronze VL1 200
Thank you all for your trust.
More information here
Next stops: Sprint World Cup in Paris and Marathon World Championship in Jels