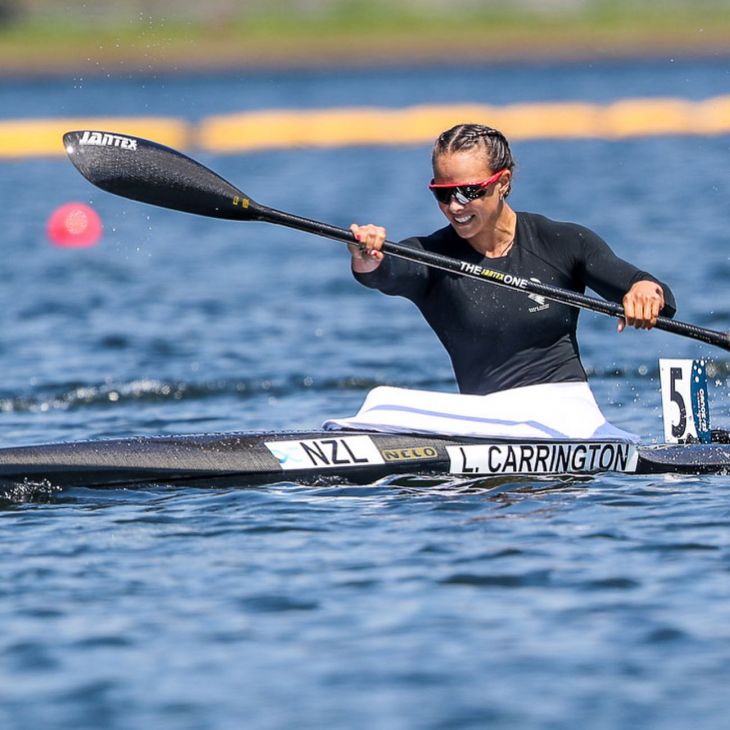 SPRINT WORLD CHAMPIONSHIP – DARTMOUTH 2022
Posted at 23.08.2022
It's been a long time since the last Senior Sprint World Championship in Canada. 13 years, to be more precise. It's true that we can still find some of the same names in the start list, like René Poulsen, Teresa Portela or Jenny Egan, but most of the athletes have retired or became Coaches or Team Leaders or even Presidents, like Javier Hernanz. Also, like 2009, 2022 is a transition season for a lot of the athletes that haven't decided what's coming next or just need a break to focus in other aspects of life.
By the way, Lisa Carrington, married not that long ago, keeps showing she has no intentions of steping down of her throne. Gold in K1 500 and K1 200 while trying to build a new K2 and K4 500 formations that finished top 5 in both races. In the K1 500, Lisa shared the podium with two of the most promising athletes of the new generation: Olympian in Tokyo, Anamaria Govorcinovic, silently made her way to the Silver Medal and positioned herself as a target for the next competitions; and Jule Hake, Bronze medalist, not the most exuberant paddler during Junior and U23 years, she's now one of the best in the world after the K1 medals in the World Cups and in Canada, something not very common for German women in recent years.
If you know Fernando Pimenta, it's not surprising that he left Dartmouth with a huge sense of frustration: first because he missed the Gold in the K1 1000 by only 0,05s and second because of the rudder problems he had during the 5Ks, preventing him to fight for the Gold in a race where 24 started but only 14 finished. Really something for the ICF to think about, this new 5K format. Nevertheless, he left Canada with a Silver in the K1 1000 and K2 Mix 500 with Teresa Portela, and a Bronze in the K1 500.
One of the most fearsome teams of canoeing is Karolina Naja and Anna Pulawska. After Silver and Bronze in Tokyo, they finished the season with double Gold in K2 500 and K4 500. Well deserved world titles for them, so many years at the top. A very special word for the Australian K4, Silver, and the Mexican surprising Bronze.
Who seems to be loving the top view is the Ukranian Men's K4. It looks like they're the only ones able to fight with the Spanish and the Germans. Bronze for Dmytro Danylenko and Ivan Semykin, but a lot of good feeling comingo from them.
In the Paracanoe final math, six of the winners were paddling with Jantex and six silver medalists - top 3 in KL2 Men, KL3 Men and VL2 Men. To put the names in the numbers, let's start with the winners: Peter Kiss, Mykola Syniuk, Juan Valle, Maryna Mazhula, Igor Tofalini, Laura Sugar. Silver Medals: David Philipson, Robert Oliver, Katherinne Wollermann, Fernando Rufino, Vladyslav Yepifanov and Nelia Barbosa. Bronze for Scott Martlew, Mari Santili, Dylan Littlehales and Norberto Mourão,
Here the List of Jantex Medalists
Paracanoe
Peter Kiss – Gold KL1
Mykola Syniuk – Gold KL2
Juan Valle – Gold KL3
Maryna Mazhula – Gold KL1
Igor Tofalini – Gold VL2
Laura Sugar – Gold KL3
David Phillipson – Silver KL2
Robert Oliver – Silver KL3
Katherinne Wolermann – Silver KL1
Fernando Rufino – Silver VL2
Vladyslav Yepifanov – Silver VL3
Nelia Barbosa – Silver KL3
Scott Martlew – Bronze KL2
Dylan Littlehales – Bronze KL3
Mari Santili – Bronze VL3
Norberto Mourão – Bronze VL2
Sprint
Lisa Carrington – Giold K1 500 and 200
Karolina Naja – Gold K2 and K4 500
Anna Pulawska – Gold K2 and K4 500
Fernando Pimenta – Silver K1 1000 and K2 Mix, Bronze K1 500
Anamaria Govorcinovic – Silver K1 500 and Bronze K1 1000
Jule Hake – Bronze K1 500, Silver K2 500 and K1 5K
Ella Beere – Silver K4 500
Alyssa Bull – Silver K4 500
Alexandra Clarke – Silver K4 500
Yale Steinpreis – Silver K4 500
Teresa Portela – Silver K2 Mix
Dmytro Danylenko – Bronze K4 500
Ivan Semykin – Bronze K4 500
Karina Alanis – Bronze K4 500
Isabel Romero – Bronze K4 500
Beatriz Briones – Bronze K4 500
Maricela Montemayor – Bronze K4 500
Jennifer Egan-Simmons – Bronze K1 5K
Adreanne Langlois – Bronze K2 200
Toshka Hrebacka – Bronze K2 200
Julia Osende – Bronze C4 500
More information here
Next Stop: European Championship in Munich